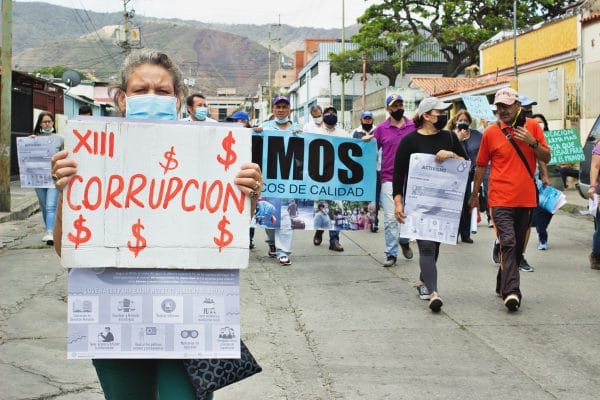 The collision of the Complex Humanitarian Emergency (CHE) and the pandemic worsened the
multidimensional crisis suffered by Venezuelans, generating a standstill indifferent dimensions of the population's everyday life. When it seems that the strains of the coronavirus have decreased their lethality after two years of restrictions, the population needs to recover some level of certainty; and in the case of millions of Venezuelans with job insecurity, carrying out a
productive activity in order to put food on their family's dinner table.
Venezuelan authorities have detected in this reality an opportunity for attempting to normalize authoritarianism, developing a communicational strategy on different levels in order to assure that "Venezuela has been fixed". The result of this campaign can be observed in statements made by people such as the Argentine President, Alberto Fernández, who assured that Venezuelans' human rights problems "are being resolved".
Reality is very different. According to what the last Life Conditions National Survey revealed, 10% of people with the better incomes represent 40% of the entire national income. The gap between those who have the most and those who have the least has grown in a substantial and alarming manner, which will keep forcing Venezuelans out of their
territory as forced migrants. With the excuse of being a victim of sanctions, authorities refuse to make corrections in order to resolve problems of millions of Venezuelans, in a wide variety going from insufficient income to lack of basic services.
Never before had we seen such a clear connection between democracy and the enjoyment of human rights. The absence of institutions that operate correctly and independently, respecting the Rule of Law and without systematic policies of discrimination for political reasons have aggravated the problems even more. It's delusional to think that under this plan of operation, situations will begin to be solved when the experience of recent years demonstrates quite the opposite.
As long as Venezuela doesn't recover a minimum institutional operation that can be qualified as democratic, violations of social and civil rights will keep getting worse as time goes by.
---
In the context of the current crisis in Venezuela, human rights organizations maintain a continuous effort to record and document the systematic violations of civil, political, economic, social and cultural rights of the population in order to accompany the victims and give visibility to these violations before the national and international community.
In this sense, the Crisis in Venezuela bulletin emerges as a weekly space in which, as a human rights movement, we bring together the situations that currently reflect the humanitarian crisis that Venezuela is going through.
The Crisis in Venezuela newsletter ESPAÑOL | ENGLISH
Boletín-228-Crisis-En-Venezuela-EN-A