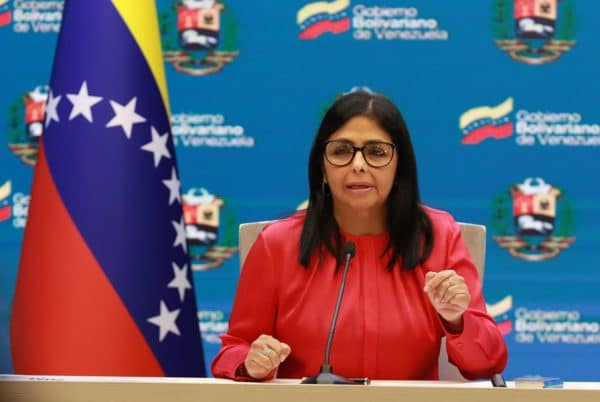 During these past days, different spokespersons of the National Executive Power have started a campaign of attacks against the International Criminal Court (ICC). First, it was the de facto Prosecutor General, Tarek William Saab, who, on May 6th, affirmed that the Preliminary Exam currently performed by the ICC used tweets generated by bots with false asseverations as information sources. This statement clashes with the one made in December 2020 when, after a visit to the organization's headquarters in The Hague, Saab affirmed that "Venezuela has always manifested its acknowledgement and support to the International Criminal Court".
The second official to disqualify the work of the ICC was the Executive Vice-President, Delcy Rodríguez, who declared that the Venezuela case was a "great sham" based on falsenesses and lies published in social media.
The Venezuelan regime attempts to position a matrix of opinion just a few weeks from, as the Prosecutor's Office of the ICC announced, making a decision on whether or not a formal investigation will be opened on the crimes against humanity that occurred in the country. Is it early damage prevention in case of an adverse decision?
Attempting to influence the ICC's opinion on Venezuela, on the other hand, motivated that, after several years of supporting a contrary thesis, Juan Pablo Pernalete would be acknowledged as being murdered by a tear gas canister (2017) and that the State is responsible of the death of the Councilperson Fernando Albán (2018). Before the lack of a genuine will of investigating, sanctioning and stopping human rights violations, Venezuelans basically only have pressure as a sole contention mechanism as a result of the actions of these international supervision organizations.
In the context of the current crisis in Venezuela, human rights organizations maintain a continuous effort to record and document the systematic violations of civil, political, economic, social and cultural rights of the population in order to accompany the victims and give visibility to these violations before the national and international community.
In this sense, the Crisis in Venezuela bulletin emerges as a weekly space in which, as a human rights movement, we bring together the situations that currently reflect the humanitarian crisis that Venezuela is going through.
The Crisis in Venezuela newsletter ESPAÑOL | ENGLISH
Boletin-182-Crisis-En-Venezuela-EN-A