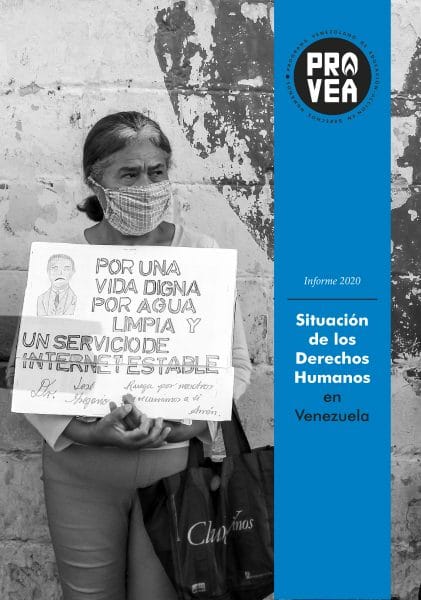 The Programa Venezolano de Educación Acción en Derechos Humanos (Provea) presented its annual report on human rights on Wednesday July 7th, in which it records the main advancements, setbacks, obstacles, and threats on 14 human rights in Venezuela. 2020 developed within a context of continuity of human rights violations in a massive and systematic manner, which reaffirmed the dictatorial character of Nicolás Maduro's government as well as the team accompanying him, with higher responsibility in the public administration.
The serious violations motivated that both the United Nations Fact-Finding Mission (FFM) and the International Criminal Court (ICC) Prosecutor's Office pointed out that there were reasonable motives to consider that crimes against humanity have been committed in Venezuela, at least since 2017. The systematic persecution of the opposition political forces had as one of its consequences the weakening of the Parliament. Some parliamentary representatives were forced to leave the country as refugees, while others went into hiding underground. The persecution also reached several social leaders, among them some union members.
The growing deficiencies in public services kept deteriorating the quality of life of the population and were the cause of protests that even though they were smaller than those in 2019 – with 16,739 mobilizations – they reached 9,633, according to data from the Venezuelan Observatory of Social Contentiousness . The human rights international protection mechanisms continued monitoring the human rights situation in the country and presented different recommendations, but authorities haven't complied with most of them. This was performed by the United Nations High Commissioner for Human Rights (UNHCHR), Michelle Bachelet, the Inter-American Commission on Human Rights (IACHR), the International Labor Organization (ILO), through the ILO Commission of Inquiry and the United Nations FFM. At the same time the Preliminary Exam performed by the ICC Prosecutor's Office makes progress.
---
In the context of the current crisis in Venezuela, human rights organizations maintain a continuous effort to record and document the systematic violations of civil, political, economic, social and cultural rights of the population in order to accompany the victims and give visibility to these violations before the national and international community.
In this sense, the Crisis in Venezuela bulletin emerges as a weekly space in which, as a human rights movement, we bring together the situations that currently reflect the humanitarian crisis that Venezuela is going through.
The Crisis in Venezuela newsletter ESPAÑOL | ENGLISH
Boletín-190-Crisis-En-Venezuela-EN-A